Yoga for an active lifestyle
Functional movement that supports your life on and off the mat
I'm a firm believer that life should be all about balance. The piña and the colada. The effort and the ease. And as much as I like yoga (and I like it A LOT), I like other activities too. One of the great things about yoga is that it supports you way beyond the mat. Yoga makes your body and mind stronger and more flexible. It helps you become more focused and present. It helps you feel centered and find calm. All of which supports you in your everyday life and activities. So I like to think of my classes as FUNctional movement that helps support your life off the mat.
Now let's do some yoga! Whether you want to practice in-person or online, I have got you covered! And if you really want to commit to your practice then check out Flow Society, my online membership which gives you access to a library of yoga classes, all live classes and exclusive discounts!
Wondering what My classes are like? Read on!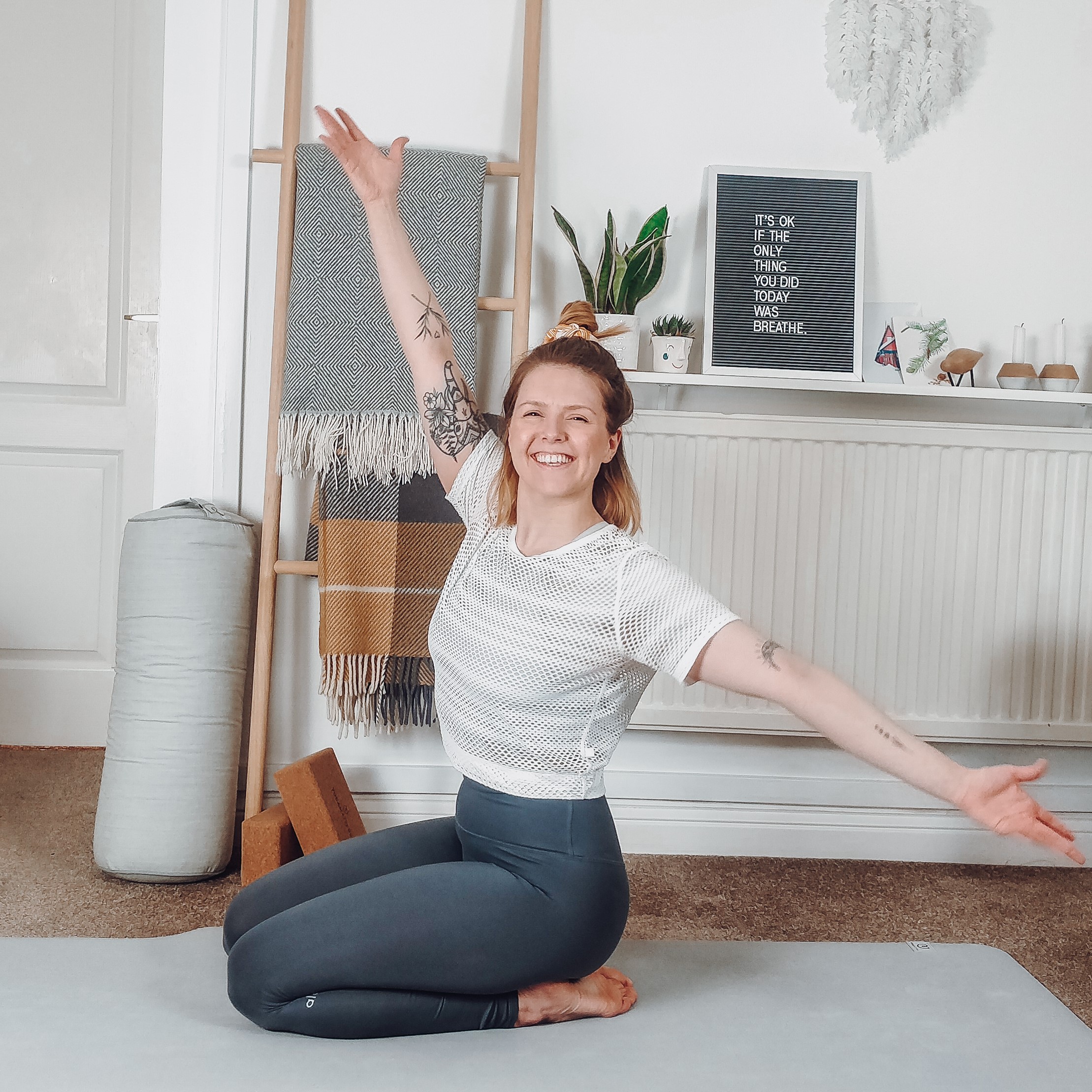 Yoga to me is the ultimate way to spend time with yourself, to get to know yourself, your body and your mind. When we step on our mat we get a moment to explore and learn, a moment to appreciate ourselves and our bodies, a moment to discover what we're capable of. And the more we take those moments, the more we grow – on the mat and off. So let's make sure we make time for those moments!
In my classes we focus on mindful yet playful movement. Building strength and flexibility in the body whilst cultivating calm in the mind. We don't move very fast, but that doesn't mean it doesn't get fiery. It's a slow burn. You can definitely expect to build up a sweat but there's also plenty of opportunities to relax. You'll leave feeling strong, supple and serene.
My flows are fun, creative and fluid but definitely not strict, if you're not feeling a particular pose – just don't do it, simple as that. I want to encourage you to tune in and to move mindfully, so my words are always suggestions, never instructions. Yes I might throw in an arm balance but if you're feeling more like a child's pose then that is all good. This is your yoga practice after all.
Come join me for some FUNctional movement – let's explore, learn and have fun!
It's all in the name. We flow but we do it slow.
This class is all about gentle flowing movement that stretches out the body and calms the mind. It's a short and sweet class that is the perfect little treat after a long day. We'll breathe deep, move the body in a gentle and mindful way before settling in for a little relaxation.
You'll leave feeling stretched out and calm.
Let's slow things down.
FUNctional movement at its best!
This class is all about exploring movement in a fun and flowing way. A perfect balance of strength and stretch, effort and ease. We'll fire up those stabilising muscles in the body, stretch out our stiff muscles and find calm in our busy minds. It's energetic but definitely not fast, expect to build up a bit of heat in the body before sinking into some wonderful deep stretches and finishing off with a lovely long relaxation.
You'll leave feeling strong, supple and serene.
Immerse yourself in the movement. Immerse yourself in the moment. Come explore.
Wednesdays 6:30pm (45min)
We all love options so whether you want to just drop-in for a class or if you want to really commit to your practice. I've got you covered! There are two excellent options for class bookings:
perfect for the occasional yoga fix
Classes can be booked on a class by class basis. Ideal if you're just looking to join the odd class here and there.
the easy way to practice regularly
discount on all in-person classes
PLUS unlimited access to all online live classes, the online class library and more!
Use the tabs below to book your desired classes or get in touch to buy a class pack.
Bookings can be done up to 3 weeks in advance and up until 1 hour before class start.