A wintery yoga & knitting retreat in Wales
The Cosy One is the winter yoga retreat that dreams are made of. A beautiful weekend of intuitive movement, refreshing walks, mindful knitting, great company, complete relaxation, and delicious snacks (of course)! A literal dream.
Our yoga teacher and resident knitter, Sæunn, will guide us through creative yoga flows as well as deeply relaxing yin before sitting down and cosying up by the fire with our favourite winter craft – knitting! No yoga or knitting experience required.
Treat yourself to a cosy crafty weekend this winter!
At a glance: 2 nights, 3 days. Daily yoga, both fun yoga flows and nourishing yin. Knitting tuition as well as the yarn, tools and pattern to knit a chunky beanie. Refreshing wintery walks. Delicious brunches and dinners. Plenty of time to relax and enjoy.
Our home for the weekend is a cosy restored barn on the outskirts of Hay-on-Wye. Surrounding the house there's gorgeous abundant nature, perfect for a refreshing wintery walk. The house also has a great big yoga room for our practices as well as a snuggly living room with a wood burner where we can spend our evenings knitting by the fire. Wintery perfection!
The house has been lovingly restored to bring that perfect British countryside cosiness. There are a few different bedroom options, most of them spacious doubles but there are also twins available. The rooms are lovely and rustic offering the perfect cosy vibe!
The Cosy One will certainly live up to its name. Expect lots of yummy movement, refreshing walks, delicious food and of course super cosy knitting sessions by the fire. You'll get the chance to rest and completely recharge, leaving feeling restored, refreshed and, hopefully, inspired!
Please note the schedule may change
16:00 Arrival
17:15 Gentle Yoga Flow to Yin (75mins)
19:00 Dinner
20:30 Knitting by the fire
08:30 Tea and chill
09:00 Morning Yoga Flow (90mins)
11:00 Brunch
12:00 Wintery walk
14:00 Snack time
14:30 Free time
17:00 Yin + Nidra (75mins)
19:00 Dinner
20:30 Knitting by the fire
08:15 Tea and chill
08:45 Morning Yoga Flow (60mins)
10:00 Breakfast
11:00 Hike
14:30 Pub lunch (not included)
16:00 Goodbyes
Yoga is of course for everyone and the movement in this retreat will be suitable for most. We'll start our days with an energising yoga flow, gently waking up the body with a creative mix of stretching and strengthening, and ending the practise with a long restful Savasana. The afternoon yoga will be a delightful blend of gentle slow flow and deeply nourishing yin, finishing with the restful practice of Yoga Nidra (yogic sleep). In the sessions you will be encouraged to tune in and listen to your body, moving in a mindful meditative way that works for you.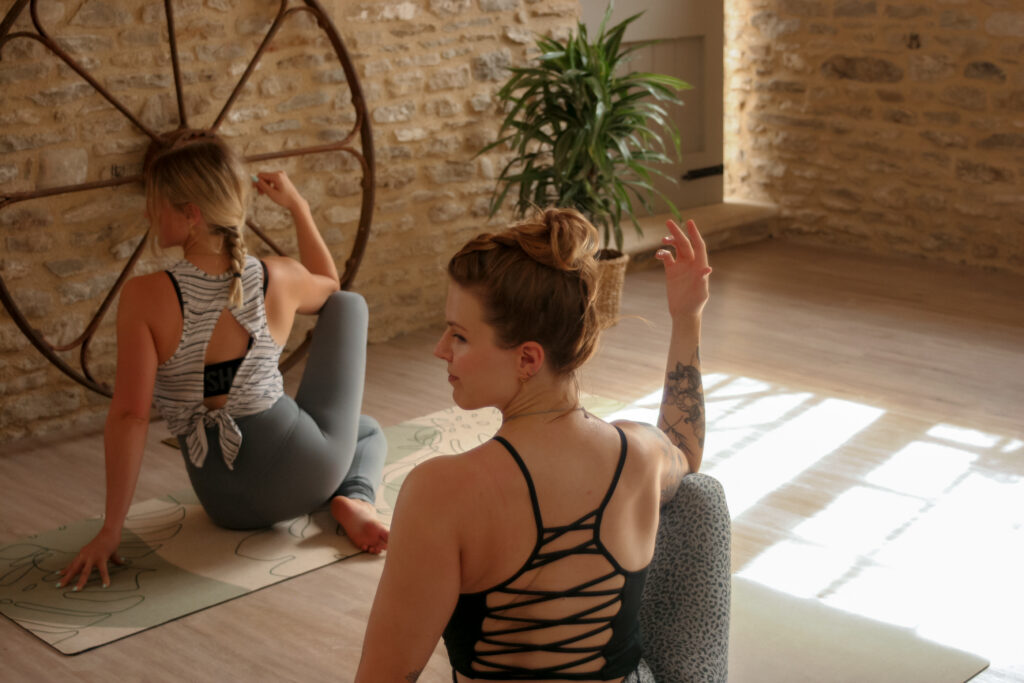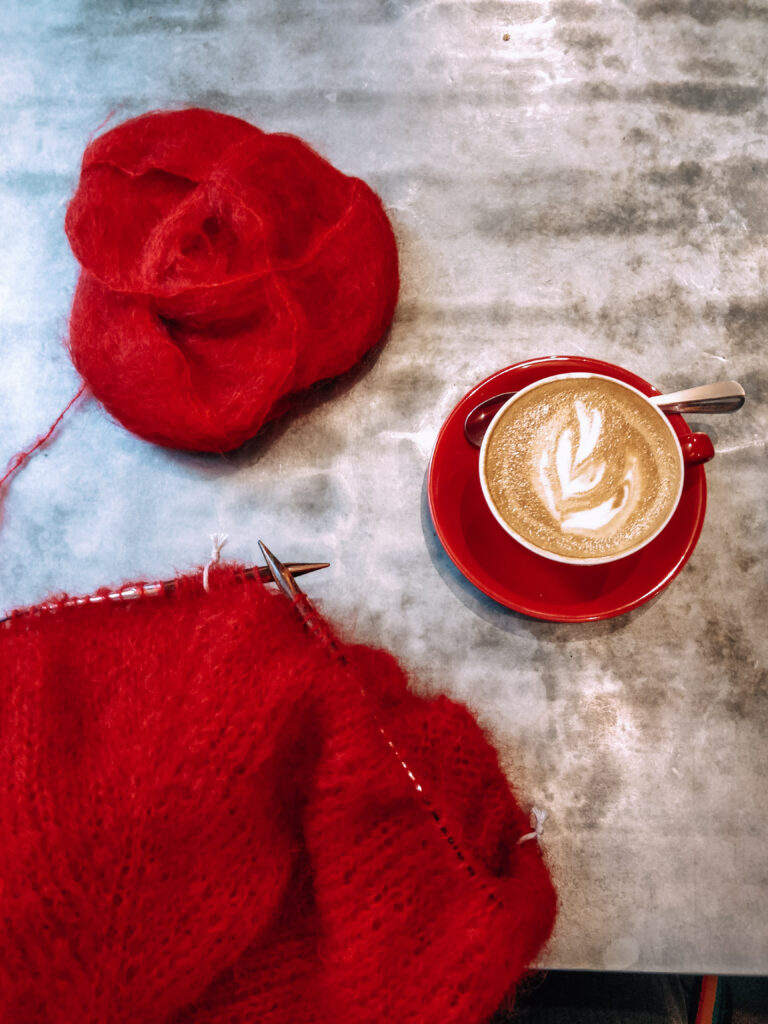 Whether you're a seasoned knitter or a complete newbie, this yoga and knitting retreat is for you! You'll get all the supplies to knit a chunky wool beanie as well as instruction. The kit will include high quality British wool, a pair of wooden knitting needles, a tapestry needle and the pattern. We'll all gather in the evenings and knit together, Sæunn will take you through all the different steps. By the end of the weekend you'll have a gorgeous brand new handmade chunky beanie, and perhaps a fun new hobby!
A fresh crisp walk is definitely one of the highlights of winter. So we'll lace up our walking boots and head out into the stunning Welsh countryside that surrounds our home for the weekend because there's nothing quite like some fresh country air!
On the Saturday we'll stay close to home, exploring our gorgeous countryside surroundings near Hay-on-Way. Then on Sunday we'll head a little bit further afield for a more rugged adventure, finishing off with a stop at the pub.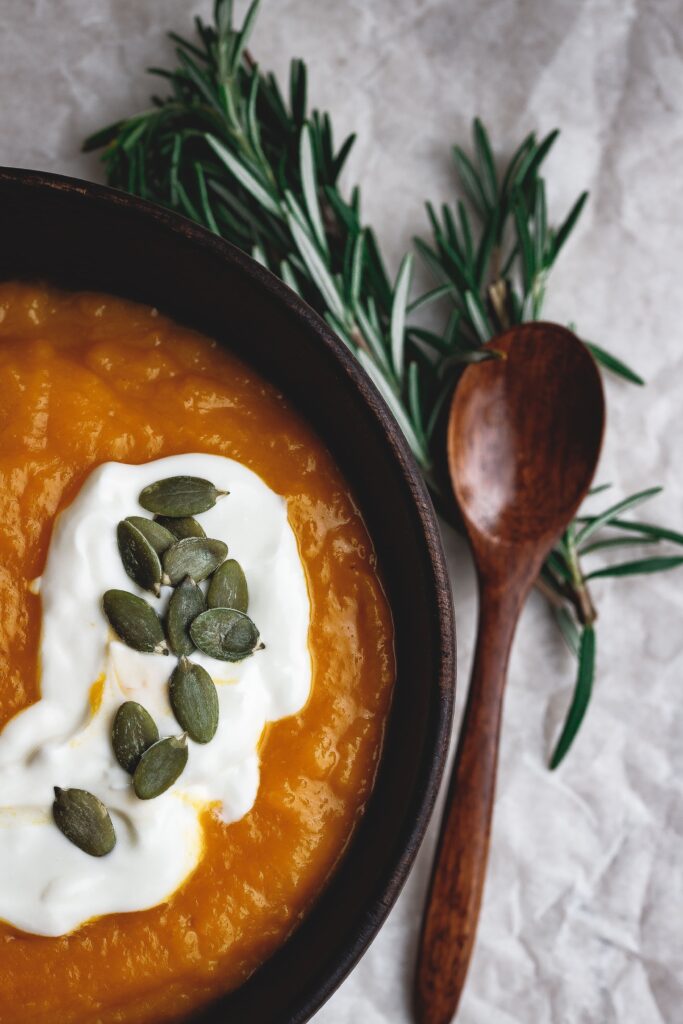 It's not really a good yoga retreat without good food! On The Cosy One, we will feast on delicious and abundant vegetarian dishes inspired by the winter season. Expect nourishing and warming food that feeds not only the body but also the soul. Included are brunches and dinners as well as lots of snacks and we are happy to cater to any dietary requirements.
Included in The Cosy One is everything you might expect from a wintery yoga retreat, and more! Fabulous accommodation, delicious food, lots of yoga, guided walks, and of course knitting!
Twin room shared occupancy (shared bathroom): £475 pp SOLD OUT
Double bed shared occupancy (shared bathroom): £930 for two
Double bed shared occupancy (ensuite): £970 for two

Double bed single occupancy (shared bathroom): £565
Double bed single occupancy (ensuite): £585
A non-refundable deposit of £150 is required upon booking. The remainder must be paid before the 1st of October – payment plans available.
Please view the Terms & Conditions page for full details.
Please note this is the deposit only. Join us for...
Sæunn Rut (@sajarut) is a yoga teacher with a master's in public health and she loves nothing more than combining health, outdoor activities and yoga. She has run multiple yoga and health retreats, both locally and abroad, and she regularly hosts science-informed yoga workshops. She emphasises the importance of a healthy and balanced lifestyle, and she seeks to help people achieve just that.
Sæunn encourages her students to always move mindfully, to listen to the body and observe the state of the mind, to be present. She is passionate about taking the practice of yoga and extending it beyond the mat. She knows that life happens outside of the yoga studio and she wants to help you make the most of that life. She weaves in her background in dance and combines it with a keen knowledge of the human body and psyche to create a practice full of creativity which is aimed to find that elusive balance, on the mat and off it.
If you want to try out one of Sæunn's classes then all information can be found on here. She also has multiple free classes available on YouTube.
She also happens to be an avid knitter and the beanie you see in the photo is very similar to the one you'll be knitting on The Cosy One.
A wintery yoga & knitting retreat in Wales